Frequently Asked Questions / Family Resources
How will I get to the facility?
Either the hospital can arrange for ambulance transport, the family can bring the patient from the hospital, or the facility bus (if available) can pick the patient up from the hospital and bring them to the facility.
What should I bring with me?
It is best to bring 5-6 changes of clothes, well-fitting shoes, night wear, and any other personal items that you may need. Each room is private, so there is plenty of storage for personal belongings. It is not necessary to bring medication or mobility devices such as a wheelchair or walker.
How many days a week will I have therapy?
The amount of therapy needed is dependent on the patient and their health needs. The therapy department will work in conjunction with the doctor to determine the appropriate amount of therapy for each patient's recovery needs. Upon admission, we provide a therapy evaluation. This evaluation helps us to build a customized care plan for the patient.
Are pets allowed?
Yes. Four-legged visitors are allowed to visit. However, you must provide an updated vaccination record before the pet visits the facility.
How long will I have to stay?
The length of stay varies for each person based on their healthcare needs. Our facility works with the doctor involved to ensure the patient is able to be discharged to home safely. We conduct care plan meetings during the patient's stay to keep everyone involved updated on progress.
May my family visit?
Yes, guests are always welcome. We actually encourage family and friends to visit! However, we do not allow overnight guests. This ensures that patients are getting the rest needed for their recovery process.
What is meant by a three-night hospital stay?
If the health condition of the person requires that they be in a hospital for three nights, and they have Medicare as their primary insurance, they then become eligible to use their benefit for skilled nursing days in a rehab facility.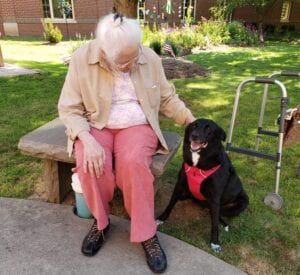 Providence Health Care
1 Sisters of Providence
Saint Mary of-the-Woods, Indiana 47876
(812) 535-4001